Project: Maple Place/AURHA
Project: Maple Place Inc. (and Amoterra University of Restorative and Healing Arts [AURHA])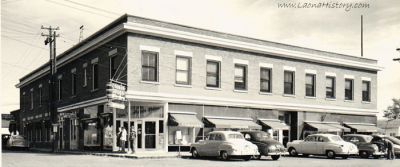 Background...
In January of 2013, Phillip J. Adamczyk established Amoterra: Wellness for Mind, Body, and Spirit in the rural area of Townsend, Wisconsin. His business primarily offered massage therapy services to the general public, ages 18 and older, as well as other holistic- and alternative-based services, including but not limited to: reflexology; aromatherapy; myofascial release; hot stone therapy; Raindrop Technique®; deep tissue/trigger point therapy; and Reiki. Amoterra began tentatively, as an assessment of the need for massage and bodywork-based services in the area. Adamczyk discovered several important things as a result of opening his wellness center:
1) Not only in metropolitan areas but also in rural areas, there is a need for massage therapy and bodywork services. The Townsend/Lakewood/Wabeno areas are home to a growing population of diverse individuals (according to the 2000 census, the town was composed of 963 people), and Townsend is composed of roughly 82.8% of people over the age of 18.
2) Massage has been needed not only for relaxation purposes, but also for rehabilitation and chronic pain issues. Adamczyk reports that over 85% of the clients that he sees are in need of more than just a relaxation treatment, but generally require deep tissue and trigger point therapies for underlying muscular pain.
3) Massage is becoming more widely recognized as a preventative treatment for maintaining health and wellness of the body.
4) Massage is an excellent complementary treatment to other alternative therapies, as well as to Western medicine, chiropractic, and physical therapy.
5) Massage therapy is noninvasive, requires no surgery, and can be utilized to help treat a variety of health issues, ranging from scar tissue release work to fibromyalgia relief.
Origins...
In January of 2016, a group of professionals with very diverse backgrounds met and decided to begin a higher education institute in the northern area of Wisconsin. These individuals became the Board of Directors of AURHA and now consist of 9 members, ranging in areas of expertise from administration to college instruction to interior design, art, nursing, and massage therapy. The AURHA Board of Directors agreed that, since potential enrollees within the surrounding areas would have to travel to at least Green Bay, Appleton, or Wausau to enroll in a massage therapy program in the state of Wisconsin, the college's primary program and area of focus would be massage therapy; however, the board agreed that massage therapy would be the stepping stone to other future programs offered at AURHA, including general education courses, elective courses, and programs involving nursing, physical therapy, education, and acupuncture, to name a few.
In addition to a well-documented increase in the massage therapy profession, as well as a growing need for rehabilitative and therapeutic massage services, the board felt that many massage programs currently offered were missing some essential components to produce more well-rounded, well-versed therapists. The AURHA Board of Directors decided upon the creation of a massage therapy program that would not only provide students with an excellent education of the field of massage therapy and a well-rounded background in a variety of massage techniques, but also the skills and dispositions to provide competent, superior, and compassionate services to the general public in order to uphold the highest standards available within the massage therapy profession.
The Connor Lumber and Land Company Store...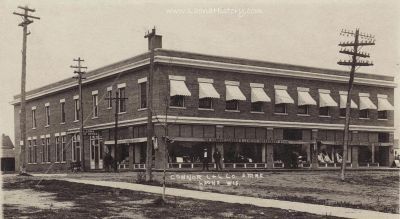 The Connor Lumber and Land Company Store was originally constructed in the early 1900s, shortly after Laona was founded. The Connor family, coming to Laona to explore the lumber industry, is responsible for one of the largest – if not the largest – hardwood industry production companies in the world. Having built not only buildings like the old hospital, hotel, and general store, the Connor family also provided a necessary influx of jobs to the local communities and pioneered the lumber industry throughout the nation.
The Company Store was originally a wooden-construction building, which burned due to a fire in February of 1914. Construction began on a new store in spring and summer of 1914, which was completed in 1916, when the new Connor Lumber and Land Company Store was finally finished and operational.
This building has contained most of the core of Laona's industry throughout the years; the store functioned as a mercantile store, feed store, drugstore, soda fountain, restaurant, toy store, clothing store, shoe store, grocery store, hardware store, post office, bank, mortuary, furniture store, and gift shop. In addition, the second floor of the building also housed the railroad offices, the lumber offices, and this region's U.S. Bureau of Indian Affairs Office.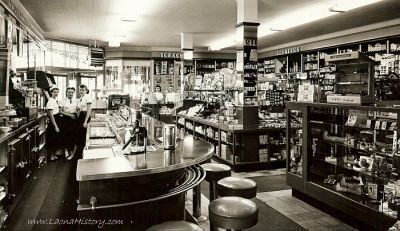 Located in the very center and heart of Laona, the Company Store provided a distinguished look into the past of a town with a history not only old but rather important and, in a lot of cases, largely forgotten.
Enter One Crazy Guy With Infinite Motivation...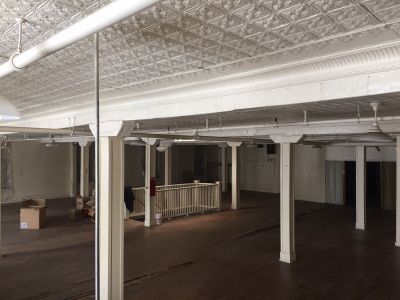 In late 2016, Phil happened across a historic building in Laona that was up for sale. The Connor Lumber and Land Company Store, built in 1916, stood vacant at the center of Laona - 4894 Mill Street. Walking into the building at an estate showing and seeing the once-grandeur of the building (and its potential to shine once again), Phil entered into the public auction and purchased the building on November 1st of 2016. The paperwork was officially filed on December 15th, 2016, and the official physical location of Amoterra University became real.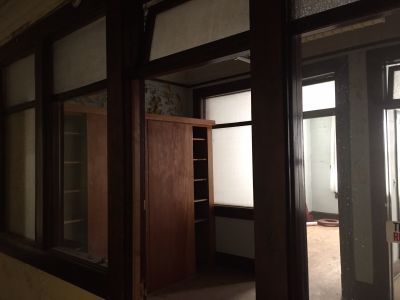 Phil and the rest of the Board of Directors established Amoterra University of Restorative and Healing Arts (AURHA), which will serve not only as the northern region of Wisconsin's first and largest holistic wellness center, but will also serve as a university and resource library, complete with general education course offerings, a massage therapy program, and more. This building will also provide a ballroom, which the community can rent and utilize; a coffee shop and bakery, complete with unique and homemade items for both students and the general public; and additional space for local business owners interested in starting their own ventures. Before being able to offer any of these services or ventures, the building must be renovated and completely restored.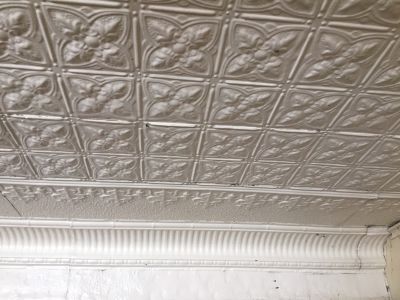 Because this building is the heart of Laona and holds such historic significance to the town, it is important that it be restored not only on the interior but on the exterior as well. The Board's plan is to restore this building back to its original 1916 façade, in effect restoring its historic integrity, its natural beauty, and the overall image of Laona itself. The plan is to restore the original 1916 building, which will require the demolition of the building addition of the grocery store, located at the back of the building (the north side, facing the Laona Post Office). In place of where the non-original portion of the building will be taken down, the Board plans to add a community courtyard, complete with raised gardens, that can be utilized by the public.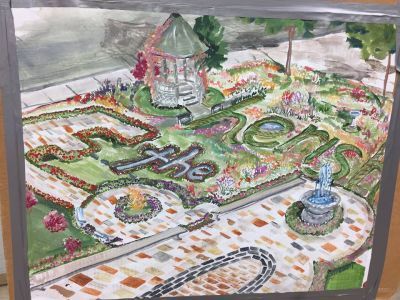 PLEASE NOTE: THIS PROJECT IS NOT YET COMPLETED, AND WE NEED YOU - THE COMMUNITY - TO PROVIDE US WITH HELP!

UPDATE, 10/26/17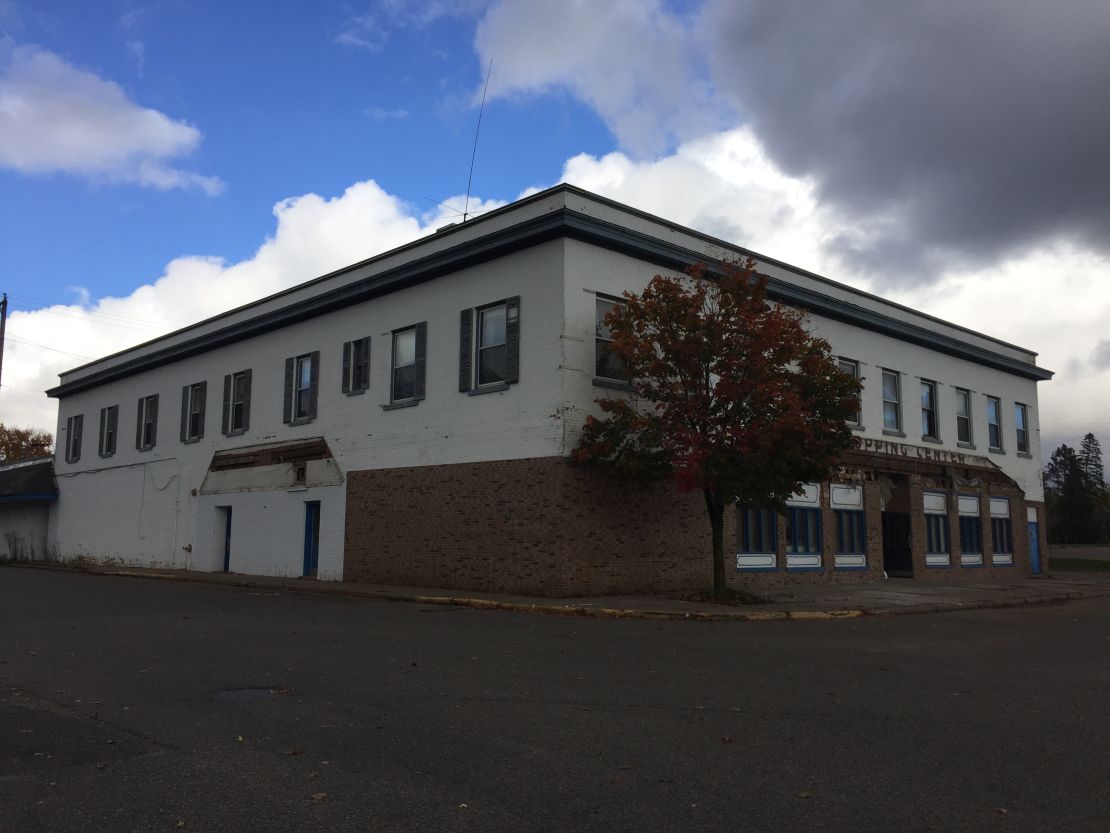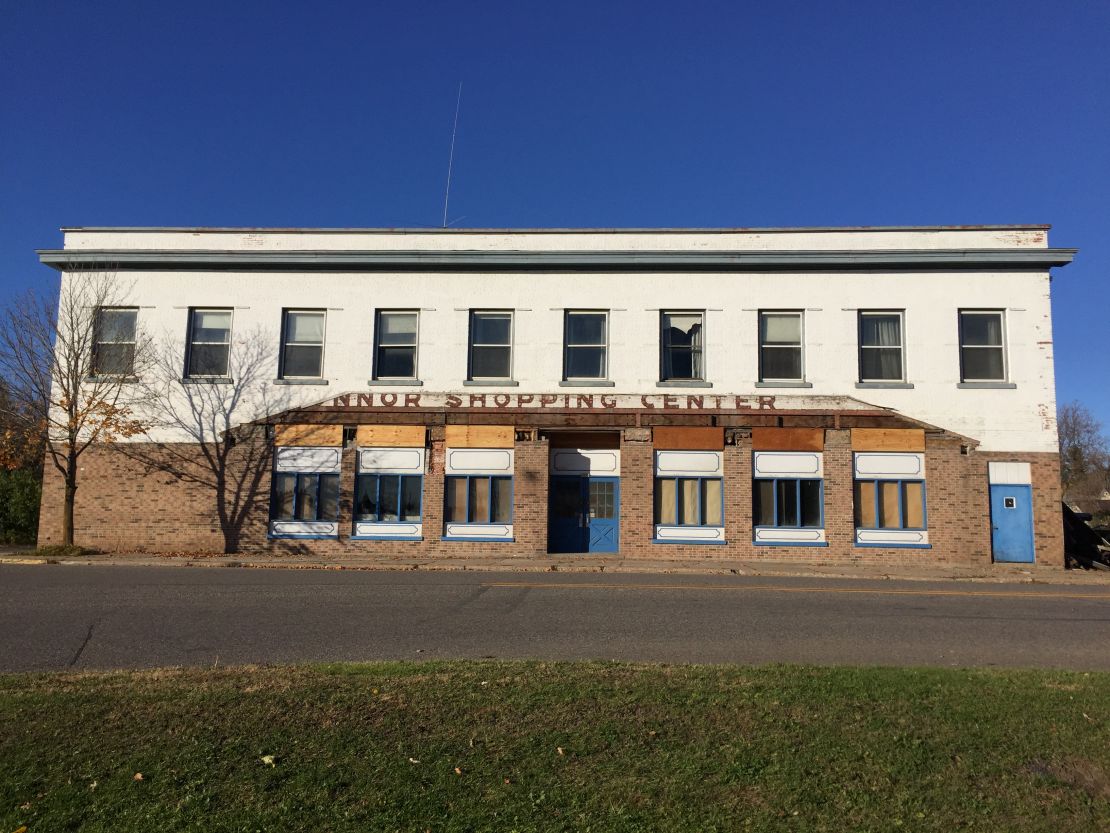 We have now removed the south side awning (the front) and the west side awning from the building, re-exposing the original headers for both the transom windows and the doors from the original 1914 building. We also received an exciting phone call from WJFW Newswatch 12 out of Rhinelander, asking us for an interview regarding the building's restoration. Check out some updated photos of the building, as well as the video broadcast of the interview, which aired on 10/17/17 and be found on the Facebook Page (www.facebook.com/AmoterraUniversity)...
UPDATE, 11/21/17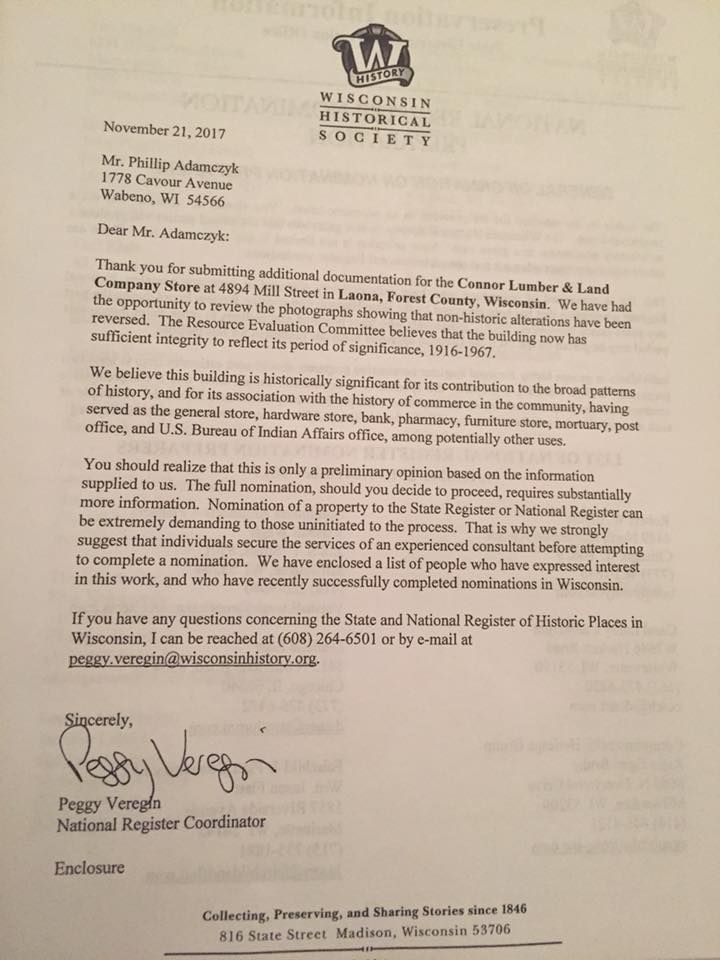 The Wisconsin State Historical Society has officially approved the historic significance and the historic integrity of the building, which now allows us to proceed with the official nomination to both the State and National Registers of Historic Places. Once the official nomination paperwork is compiled, submitted, and approved, we will be able to proceed with the large construction work to restructure the building's front facade on the first floor, replace and restore the original windows downstairs, restore the brick, replace and re-stamp the original tin ceilings inside, and more!
UPDATE, 8/30/18
Effective 5/31/18, Maple Place Inc. has been granted official 501.c.3 nonprofit status by the IRS. We are now able to accept private donations that qualify for tax deduction.
Maple Place's Mission...
Our purpose and mission at Maple Place Inc. is to restore, preserve, and maintain the history and historic structure of the former Connor Lumber and Land Company Store and maintain its importance and significance with regard to economic progress, quality of life, and preservation of the history within the Laona community.
Maple Place's Board of Directors...
1) Phil Adamczyk, Chair/Executive Director.
2) Richard Schaal, Vice-Chair.
3) Helen Schaal, Secretary.
4) Jonel Calhoun, Treasurer.
5) Carla Connor, Director.
6) Joshua Jameson, Director.
7) Kristopher Tryczak, Director.
8) Roz Wittmann, Director.
9) Eve Van Harpen, Director.
10) Sara Connor, Historic Advisor.
AURHA's Mission...
The mission of AURHA is threefold:
1) To provide high-quality education and hands-on training and experience in the many fields of holistic health and wellness via our in-building university, in order to create, develop, and implement quality care for the general public in mind, body, and spirit within the wellness industry, allowing graduates to uphold excellence in health standards and scope of practice, as well as implement and maintain both a mindset and a vocation that is nurturing, compassionate, empathetic, and well-informed in their specified areas of holistic wellness. We strive to offer educational opportunities of the highest quality at an institution that is safe and comfortable and accepts and welcomes students of all backgrounds and does not discriminate based on any difference of the human condition, including: religion, skin color, gender, sexual orientation, or personal beliefs.
2) To provide superior, quality holistic wellness services to the community and general public via our in-building holistic wellness center, pioneering a wide range of services all in one convenient place; we anticipate serving the entire northern region of the state of Wisconsin, from just north of Green Bay to the Upper Peninsula of Michigan. Among the holistic services we will offer within our wellness center, we strive to focus specifically upon bringing behavioral and mental health counseling services to the area to better serve the many needs of all our surrounding communities.
3) To function as a community-oriented, historic epicenter in order to promote interconnectedness, family, and a greater sense of close-knit community by providing event opportunities, skills opportunities, community-based spaces such as a public courtyard with gardens, and by sponsoring events such as community food drives, sidewalk bazaars, and farmers' markets; our historic aspect will also allow us to preserve and proudly display Laona's treasured history.
AURHA's Board of Directors...

The AURHA Board of Directors consists of nine individuals, all of varying age and experience, and all with different areas of expertise with which to create a well-rounded, advisory body:

1) Phil Adamczyk. Executive Director, Licensed massage therapist, licensed educator, local business owner (Amoterra). Wabeno, Wisconsin, and Townsend, Wisconsin.

2) Kristopher Tryczak. Interior designer and local business owner (K Interiors). Wausau, Wisconsin, Wabeno, Wisconsin, and Townsend, Wisconsin.

3) Sheri Jo Posselt. Art instructor (NWTC), local business owner (Sincere Harmony Art Studio). Lakewood, Wisconsin.

4) Richard Schaal. Institute Director for UWGB schools, former administrator and principal (retired). Mountain, Wisconsin.

5) Helen Schaal. UWGB professor of education, licensed K12 educator. Mountain, Wisconsin.

6) Leah O'Barski. Hospice nurse and department manager. Manitowoc, Wisconsin, and Mountain, Wisconsin.

7) Joshua Jameson. Forest County Economic Development committee (former), current financial advisor and grant writer for AURHA. Crandon, Wisconsin.

8) Tim Reeder. General contractor, professional residential and commercial building inspector, local business owner (Building Performance Solutions). Crandon, Wisconsin.
9) Erik Kehl. Webmaster, website designer, technical support coordinator, business owner (NuFusion Studios). Janesville, Wisconsin.
For more information, upcoming events, and to stay in the loop, check out these links:
Maple Place & AURHA Events and Fundraisers
Check out our upcoming events by going to our Facebook pages: Maple Place Inc. / Amoterra University
AURHA Brick Memorial Fundraiser (May 1st, 2018 - May 1st, 2019): www.bricksrus.com/order/aurha
External Links to Maple Place & AURHA
Maple Place Inc. Facebook Page (currently the primary resource): www.facebook.com/MaplePlaceLaona
AURHA Facebook Page (currently the secondary information resource): www.facebook.com/AmoterraUniversity